Image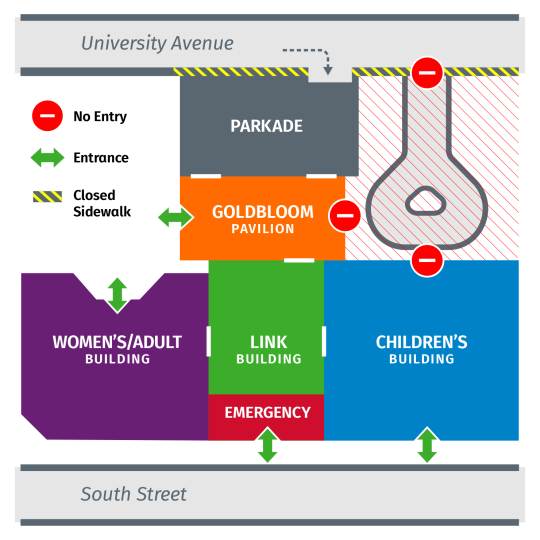 Screening of patients and support people at entrances into the building continues. To streamline patient flow we are asking that patients enter through designated entry points. Signage is in place.
1. Women's & Newborn Entrance (Women's Building on University Avenue):
All patients coming in for services in women's and newborn health should use this entrance. This includes: Early Labour Assessment Unit (ELAU), labour and delivery (Birth Unit), fetal assessment and treatment centre services, prenatal care unit, obstetrical day unit, adult surgery, gynecology, & neonatal intensive care (NICU).

2. Closed: Children's University Avenue Entrance (Children's Building on University Avenue):
The University Avenue entrance of the IWK Children's Building will be closed indefinitely as part of construction efforts for the new Emergency Department. You can access the Children's Building through:
Link Building entrance via the Goldbloom Pavilion (M-F 0700hrs – 1700hrs)
Women's Building University Avenue entrance
South Street entrance (M-F 0700hrs – 1700hrs)
Children's Building Driveway & Entrance Closure Notice 

3. Children's South Street Entrance:
Ideally this entrance is reserved for those coming in for appointments on level 1. This includes: Blood Collection Lab, Diagnostic Imaging, Shared Clinics, Orthopedics, ENT, Respiratory Clinic, and Pulmonary Function Testing.
The Emergency Department remains open and this entrance should only be used for patients visiting Emergency.