Image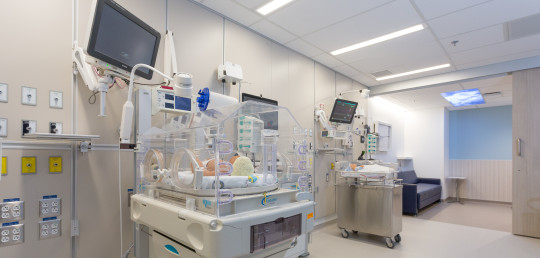 The care team of IWK's Neonatal Intensive Care Unit (NICU) helps by working with families to provide specialized care to infants who are born too early or who are ill.
How we help
The NICU at IWK Health is a 40 bed, mixed level 2/3 NICU providing regionalized care. It's the only regional referral centre for most pediatric patients requiring specialized surgery in the Maritime provinces. About 4,800 infants are born per year at the IWK, of which up to 950 infants are admitted to our NICU. Our care setting provides Single Family Room Care which provides each baby and family their own private space. Our unit design is intended to meet the holistic care needs of baby and family. The medical care team of the NICU partners with families to practice Family Integrated Care. 
While your baby is growing inside you, they get to know you and their family. Babies know the sound of your voice, learn the voices of family members, recognize your scent, sense your mood, and listen to your heart beat. In the NICU, these familiar sounds and smells are very reassuring and comforting to your baby. Your presence and touch, familiar sounds and smells, will help to calm your baby. In fact, your touch, your voice and your scent are important for your baby's brain development. While the medical care provided in the NICU is important, the care provided by a family is equally as valuable. Only you can offer your baby the loving touch and comfort of family. It's why family members are the most important part of the team. Even if your baby requires urgent medical attention, you are still the most important person in your baby's life.
The Neonatal Team believes that families are vital in every aspect of their baby's life. We are dedicated to building relationships that engage family and health care providers in compassionate partnerships. Together, we strive to create a nurturing environment to deliver excellence in care.
What to expect
You are welcome to stay at your baby's bedside in NICU at all times. Each single room has a reclining chair, sleep space, and a bathroom. You are welcome to eat in your room and store small amounts of food in the bottom drawer of the fridge. Dry goods can be kept in your closet. There is a family lounge available for you to store larger amounts of food in the fridge and food lockers, and laundry facilities are available in the lounge. When you're not able to be here in the NICU, we have many ways in which you can connect to your baby. We offer virtual links to families that can be used to join daily rounds and to spend time with your baby from afar. These links will be provided to you on admission to the NICU. Additionally, you can call to talk to the Registered Nurse assigned to your family each shift. Each private room has its own phone and phone number. A member of our health care team can provide you with this number.
Please speak with us about any obstacles that may prevent you from being with your baby during their stay. We'll encourage you to care for your baby (feeding your baby, changing diapers, and providing other care) with the help of the NICU care team. 
We also have a virtual platform called ChezNICU that families can access to learn all about their baby's needs in the NICU. If you know that your baby will be admitted to the NICU, you can ask your pregnancy care team about getting access to ChezNICU before the admission.  Otherwise, we can help you get signed up once you get here. 
If your family is from outside of HRM, you may be transferred to a hospital closer to home once your baby no longer requires specialized care.
Some families know before the birth of their child that their baby will be admitted to the NICU. If this is the case for you, you can expect to have a neonatal consult where you get to meet with a Neonatologist to discuss your baby's care (a Neonatologist is a doctor who works in the NICU). Please know that we can facilitate a tour of the NICU prior to your baby's birth to familiarize yourself with the surroundings and hopefully put your mind at ease. You can request this tour through your pregnancy care provider or the Neonatologist at your consult. The NICU team works closely with the labour and delivery team to ensure you and your baby are well supported. If there's a plan in place to admit you baby to NICU after birth, you'll have some extra health care providers in your birthing room when your baby is born. They'll assess and provide necessary medical care to your baby. Sometimes babies going to the NICU can stay with their family in skin-to-skin in the birthing room for a while before being transferred to the NICU. Talk to your care providers to see if this is possible for you. 
Good things to know
The NICU is a secure unit. You'll be given a pass card that gives you access to the unit and the family lounge. 
You're encouraged and supported to be with your baby as much as possible. You can essentially move into your private single room and be always with your baby. 
You may find the temperature in NICU very warm (to keep all the babies snug!). Dress in layers. You'll want to drink water frequently to stay hydrated. 
The NICU is a high-tech environment with a lot of equipment. This can be overwhelming for families. The medical team is here for you to explain everything and answer any questions you may have. Please ask us all of your questions. We want to help! 
There is often a lot of "medical noise", like beeping. You can help your baby feel safe and calm by keeping bright lights and loud noises away from their space. These can disturb their rest. More than anything else, your baby prefers your face, voice, touch, and smell. Talking, singing, and reading to your baby all help with early brain development.
Care team rounds take place each day. As parents, you're encouraged to be present for rounds and help create your baby's daily plan. You can be present in person, or virtually.
Keeping your hands clean is the best way to protect your baby from germs. Please remove all jewelry below your elbows when entering the NICU (rings, watches, bracelets). The NICU is a nail polish and scent-aware environment.
There's a network of Parent Partners who have had babies in the NICU who are always willing to speak with you about their experiences or simply be a listening ear. If this is of interest to you, let your care team know and we'll connect you.
Babies who need care in the NICU may be at a greater risk of infection. Please discuss with your care providers if you're experiencing any of the following: fever, cough, unusual tiredness, body aches, runny nose, sore throat, nausea, diarrhea or vomiting, rash, pink eye, cold sores or recent exposure to COVID-19, Measles, Chicken pox, Mumps, Whooping Cough or other contagious illnesses.
Accessing this Clinic, Program or Service
The NICU is located on the 3rd floor of the Women's and Link Buildings of the IWK. To easily find the NICU, enter at the Robie Street entrance and take the purple elevators to the 3rd floor. Look for the NICU signs. The NICU is divided into two different units, NICU South and NICU North. The same type of care is provided and the same people work in each of these units. There is a phone at the NICU entrance for you to gain access to the NICU.
To call the NICU directly, use the following numbers:  
DIRECT
902-470-6749
902-470-8445
TOLL FREE
1-800-565-7628
1-800-386-0880