(Andrea Weagle and James Gouthro, photo by Ryan Wilson IWK)
A resource cupboard set up in the IWK Rheumatology Clinic is helping families access pain relief solutions that may be financially out of reach. 
Established in collaboration with Cassie and Friends, a Canadian charity dedicated to pediatric rheumatic disease, whose vision is " a pain-free future for kids" the resource cupboard is stocked with items such as numbing creams, dressings, splints, and stretch bands. IWK rheumatology staff give out the items free of charge to patients and families that need them. 
 The resource follows the IWK's commitment to pain management through the Comfort Promise, an evidence-based program that states "IWK Health will do everything possible to prevent and treat pain."                                                      
Feedback has been overwhelmingly positive.  
"It was a relief to receive the numbing creams free of charge as most things today, like gas and food, are expensive." 
"The resource cupboard is a godsend as my daughter has less stiffness since receiving finger splints." 
"I had difficulty getting my sneakers on and off before receiving a shoehorn." 
Image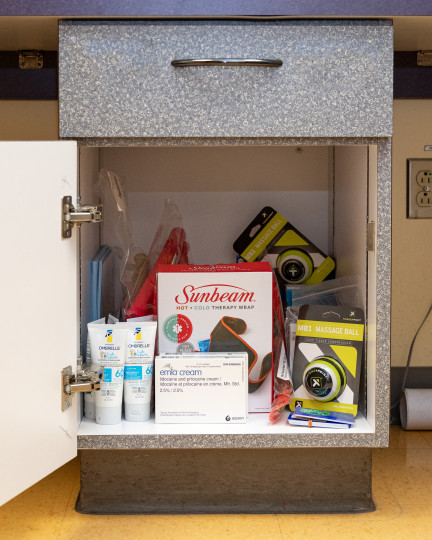 Rheumatology staff recently added sunscreen to the cupboard and there are plans to add gift certificates for sneakers.
Cassie and Friends donated funds toward the start-up of this cupboard through the IWK Foundation. Since 2021 IWK Rheumatology staff, patients, and families have participated in the Bluenose Marathon Charity Challenge with funds raised going to Cassie and Friends and the resource cupboard.