Image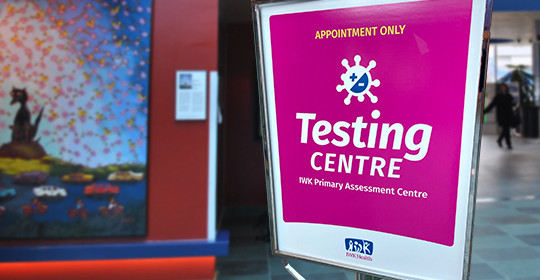 Testing centre is now closed
The IWK COVID-19 testing centre is now closed. Testing continues to be offered at various locations throughout the province. Visit www.nshealth.ca/coronavirustesting for information and booking directions.
Swish & Gargle Test
Children or youth 4-18 years old may be able to have the gargle test if able to
swish salty water in the mouth, then
gargle with the salty water, and do both steps 3 times then
spit the salty water into a container 
IMPORTANT
Remember not to brush teeth, eat, drink or chew gum for one hour before your test.
Younger children do best when they practice these steps at home with water.
Do not practice for two hours before the test as this would affect the sample.
Please review the Swish & Gargle Instruction Sheet (.pdf)
Nose Swab Test
A nose swab can be used for anyone (all ages) needing a Covid-19 test. 
A nose swab will be used for infants and young children (less than 4 years old) or when a child/youth cannot swish and gargle.
Please review the IWK Comfort Promise COVID-19 Rapid Testing Toolkit (.pdf)
 
This video from BC Children's Hospital shows how a nose swab is done and things to do to make it easier: