Image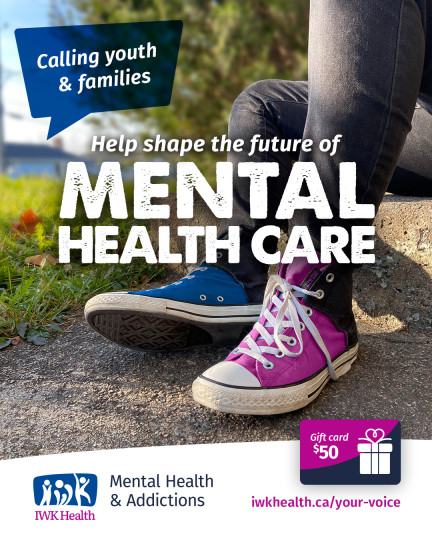 Mental Health and Addictions Program (MHA) is one of three clinical programs at IWK Health. We treat children and youth up until their 19th birthday within a patient and family-centred context.
Families are essential partners in the treatment of the childhood onset of mental health and addictions issues, and we strive to include families in treatment and to partner with families to support health and wellness for their children. The MHA Program provides services in schools, community clinics, day and inpatient settings.
How to get help 
Family doctor
A good place to start is with your family doctor. Talk to them about how you're feeling. Depending on your symptoms, your doctor may treat you, or they may refer you to a local community mental health team or a private practitioner.
Central Referral can help you get an appointment for mental health and addictions services. At the IWK we offer mental health and addictions service for children and youth under the age of 19. Please call toll free 1-855-922-1122
A psychiatric emergency is when a person is in immediate danger to him/herself due to compromised thinking and/or judgement. Call 911 or go to IWK Health Emergency. A psychiatric emergency may require hospital-based treatment.
A mental health crisis does not necessarily require hospital-based care and can be supported in the community by a team of mental health care providers. Examples include thoughts of suicide, distorted or psychotic thinking, intense anxiety, depression or the inability to cope. If you are experiencing a mental health or addictions crisis call 902-429-8167 or 1-888-429-8167 (toll-free) for the Mental Health Mobile Crisis Team.
Private practice help
In most areas there are psychologists, psychiatrists and social workers who see patients privately. If you have extended health benefits through your employer, the cost of your treatment may be covered.
Association of Psychologists of Nova Scotia – Find A Psychologist
Registered Social Workers in Nova Scotia in Private Practice
Canadian Psychiatric Association - Finding a Psychiatrist in Your Area
Mental Health Mobile Crisis Team